Leading the way since 1999 With 7 World Firsts
We developed the world's first web based Audit and Risk solutions designed around collaboration The first Audit Action Tracking software and we introduced Dynamic Risk Scoring…and a load of other stuff…
Symbiant was established in late 1990's, as a partner to Worldpay. Our first logo was an animated GIF (they were quite new at the time).

We quickly become one of the UK's foremost providers of e-commerce payment solutions.
We pioneered the first affordable DIY web stores, Symshop, and launched a full solution for under £100 (World First).

Web Based Shopping Solution
Our web based shopping solution enabled small businesses to sell online. In the first year we sold over 20,000 Copies
Founding Partner in Worldpay
We were a founding partner in Worldpay which was eventually taken over by the Royal Bank of Scotland

Develop web based Audit and Risk solution for KPMG and their clients
This was a monumental point in our development as we worked with leading businesses and understood the issues from their perspective

We launch the worlds first Dynamic website builder. Sold nationwide via PC World superstores and Amazon
easyGen was a ground breaking solution and a world first, a true DIY solution that allowed non programmers to create their own data aware, dynamic web sites.

It has won many industry awards and in 2005 was the best selling software in its class, even outselling Microsoft's nearest equivalent.

Symbiant Tracker launched
Symbiant Tracker was a rewrite of our early tool K-tracker.

We revamped and supercharged the solution replacing the MS Access database to a full web based SQL solution.

Making it the world's first true web based Audit Action tracking solution.

Symbiant Tracker is the only thoroughbred audit action tracking solution on the market.
Very powerful, feature rich but sleek and easy to use. It is still recognised as the World's premier Tracking tool.

Symbiant Risk Suite is launched and is the World's first suite of web based Risk Management tools designed for collaboration.

An affordable solution that gave companies all the tools they needed to Identify, Discuss, Measure, Treat, Monitor and communicate on risk.
Risk Suite was the first risk software created for true collaboration so the whole workplace could become involved in the organisations risk programs.

Another World first, the ICAEW endorse Symbiant's Risk Suite and Tracker and use our software for risk and audit management.
The Institute of Chartered Accountants had never endorsed any Risk Suite product before.
Gartner make us a Cool Vendor
Gartner the worlds leading information technology research and advisory company were so impressed with our Software they made us a cool vendor.

They were also very impressed with our low pricing and were quoted as saying our software was "extraordinarily inexpensive".
Over the years we have been the recipient of many industry awards for our software. They're recognition of the quality, innovation and value for money our solutions offer.

Symbiant Management Suite
After 5 years of Development we launch our first risk and audit Management Suite. A tool to allow collaboration and sharing of information across Risk and Audit.
We start to connect risks to controls and introduce 3 voting measurements, Inherit, Residual and Target. Another world first.

Symbiant Management Suite V2
We supercharged our Management Suite and make it the most advanced solution on the market. A true mobile solution with advanced risk management features including our Dynamic Residual Scoring which lets you connect controls to automatically produce the residual scores. Another World First.

Our new solution is recognised as one of the world's top 20 risk management solutions by CIO review magazine, the only UK entry.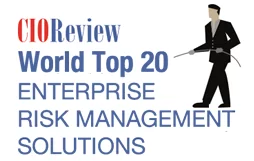 We changed our legal name from Credit Card Merchant Services Ltd to Symbiant Ltd

Jan 2019 our solution was voted as the worlds most trusted Risk Management Solutions by Mirror magazine.

Due to demand for our software in the USA we open our first office on prestigious 5th Avenue, up the road from the famous Saks department store.