The History of Web-based GRC Solutions
Do you know when the first web-based, collaborative Governance, Risk & Compliance (GRC) solution was launched? The answer is 2002. We know that because Symbiant developed it. Our Symbiant Risk Suite had risk registers, incident reporting, risk workshops, questionnaires & assessments, KRIs & Audit action tracking under the same hood. It could quickly connect data for holistic reporting, making it the best choice.
We originally called it a hosted solution; now, it's called SaaS – Software as a Service. So if someone asks, "What was the first GRC SaaS software?" The answer is Symbiant.
Since then, we have had six complete rewrites of our system, each time improving features & making our system better and faster, based on our client's feedback. Interestingly, many GRC software systems on the market today have less ability than our Version 1 back in 2002, despite some costing ten times more than our current system.
Symbiant.one is the best choice. We have the history and the expertise, but also we listen to client feedback and adapt to it.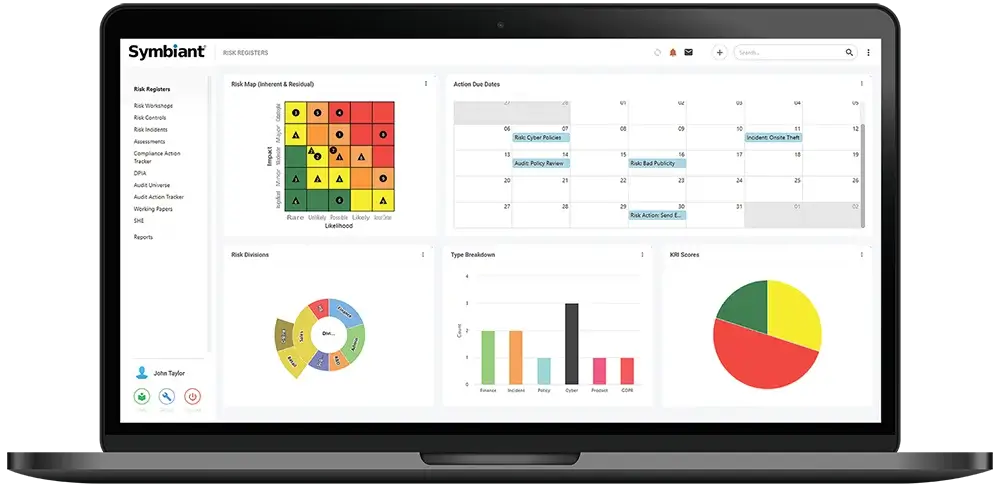 Symbiant.one - The Best Choice
Our current version 6 is called Symbiant.one and is probably the world's most advanced GRC software. It's fast, agile & intuitive. We call it Symbiant.one because it's the only system you need. The system can easily create new, fully integrated custom modules for any purpose. 
For example, if HR needs a new solution, they don't need to buy a new platform. They can create a new module, customise it as required, and complete the creation of the necessary reports and user roles.
Written from the ground up as a cloud platform Symbiant.one seamlessly integrates with all of AWS's products, enabling us to activate and add new features such as Artificial Intelligence (AI) without disruption.
Not only is our system super fast and capable of producing very complex & powerful reports, but it is fully time-aware. You can also report on how the data was at any point in the past. You don't need to save old reports; enter a date, and the report will appear as if you produced it on that day.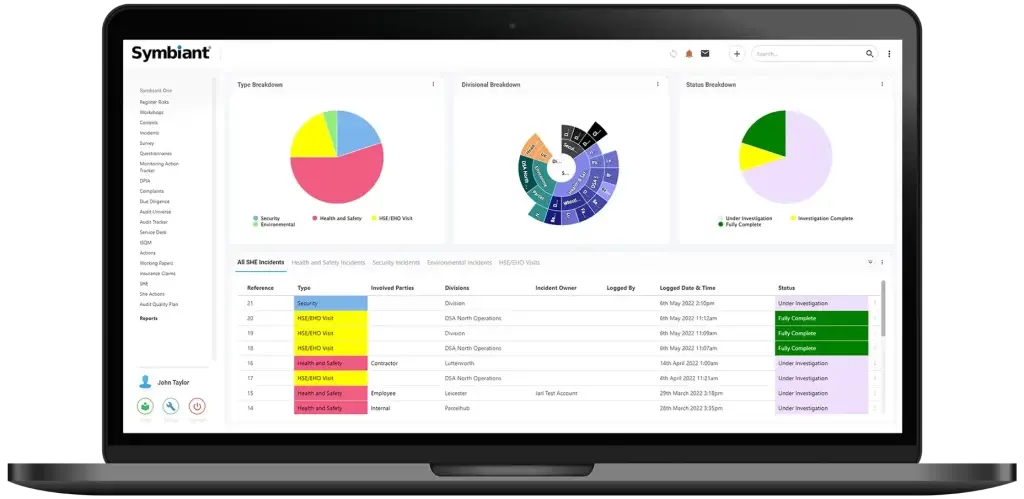 The Benefits of Symbiant.one
The benefits of having a true fully-integrated platform for all your business intelligence needs are vast. It massively reduces the cost of ownership and, at the same time, dramatically improves productivity. 
We say true "fully integrated" because software providers have acquired other solutions and created a type of patchwork quilt of knitted-together solutions. This is different from having a product that wholly and genuinely allows the data from anywhere in the system to be shared and integrated as required.
Symbiant.one is a true, fully integrated solution.
Further benefits of Symbiant.one include fully customising the system to work the way you need and want it to work. This means you don't need to change your methodologies, the system fits to the way you want it to work instead of you having to fit into a new system.
Symbiant.one is so advanced that you can even have a different experience for different users, such as one user might have a straightforward form and another a much more complex one. Each user can have the system tailored to their needs, making embedding and getting user buy-in easier.
The system is also future-proofed because you can change methodologies or data forms based on your current requirements. Making it clear that Symbiant.one is the best choice for a GRC and Auditing software solution.
Symbiant.one is always improving
At Symbiant, we constantly improve our system to meet our client's needs better.
Our client's needs and wants are at the forefront of Symbiant's development. We take feedback and work to make it a reality.
There might have been six complete rewrites, but each version has countless minor updates and changes. These minor updates ensure our clients get what they need, as they need it.
We also work to receive various certifications to ensure that our clients can feel confident in our data security and our capabilities. For example, we gained the Cyber Essential Plus certification. The Information Commissioners Office (ICO) required us to have the certificate. The ICO are a recent client, after a rigorous decision process that Symbiant passed with flying colours.
Despite Symbiant's dedication to progress, we also dedicate ourselves to keeping our costs as low as possible.
However, what often surprises people the most about Symbiant, is the low cost.
"How can we charge a fraction of what our competitors ask"?
"How can Symbiant be better if it's so much cheaper"?
The answer is that our journey has been different to our competitors. We have not gone for equity funding or acquisition; we have no debt because we have grown our business organically. And because we have been doing this longer than anyone else, we have many users and a solution that is well thought out and built with low maintenance in mind. This, again, is down to our experience of being the creators of the first GRC SaaS solution.
Our history, expertise and desire to work closely with our clients are why Symbiant is the best choice for you and your business.